'It is Imperative to Provide Art to Girls With Black and Brown Skin': A Conversation With Founder & CEO of Yumme Brand
As the first feature of "Yes, Sis," I will be highlighting Atlanta native and graphic design artist, Taaj Hubbard!
So, who is Taaj? Don't worry...I got you!
Taaj - or Taaj Marjanee by her artist name - is the Founder and CEO of the Afro-urban and lifestyle, art company, Yumme Brand. Under this umbrella of a business, she creates and illustrates for the Color Me Yumme and Color Me Yumme International coloring books, which are specifically designed for Afro-descendant youth.
Why is this? Well, for the 26 year-old, Alabama State University Alumna, who is keenly aware of the limited to no representation of black girls in coloring books, the answer is simple: she wants to instill self-confidence and self-love in girls throughout the diaspora.
I had the opportunity to chat with the business woman and entrepreneur, who began this venture almost 4 years ago, and here's what she has to say. Check it out!
When did you realize you had a passion for drawing & graphic design? I've had a passion for drawing from a very early age. I used to draw images I found in books, magazines, and photo albums. I realized my passion for graphic design in the summer of 2013. At that time, my mother noticed my drawings were good enough to display on t-shirts. So I thought, "lets give this a try". I did not realize it at the time, however, this was the point in my life when Yumme Brand started to take shape. My business officially came into existence in August of 2017.
How did you decide to start a business in the field? Well at first I tried to sell t-shirts with my designs printed on them. However, this idea was not cost efficient. While I was interested in selling unique styled t-shirts, I was unaware of the time, cost, and dedication I had to have in order to be successful as an entrepreneur. This is when I learned the valuable lesson of "no pain, no gain" as a business owner. However, I am no quitter. I took the time to research and think of other ideas that were cost effective, creative, and catered to my community. In 2016, my mother and I came up with the brilliant idea to do holiday greeting cards for Muslims. I thought it was a fantastic idea because my family is Muslim and holiday greeting cards, specially made for Muslims, are not sold in stores. This is how I began to make a name for myself as an artist; specifically, as a graphic designer.
Within your graphic design services, do you specialize in any particular thing or what does that look like?
I specialize in drawing faces. I'm in love with drawing black faces, because our features are so bold and beautiful.
Tell us about Yumme Brand. Yumme Brand is amazing! It's a business I created solely for girls of Afro-descent. I created Yumme Brand to let young black girls know that they are special and beautifully unique. I believe it is easy for women of color, especially, young women of Afro-descent to feel forgotten in this world. Therefore, it is imperative to provide art to girls of black and brown skin complexion. Yumme Brand is all about creative expression and showing young black and brown girls that they should feel proud of their magnificent features and heritage.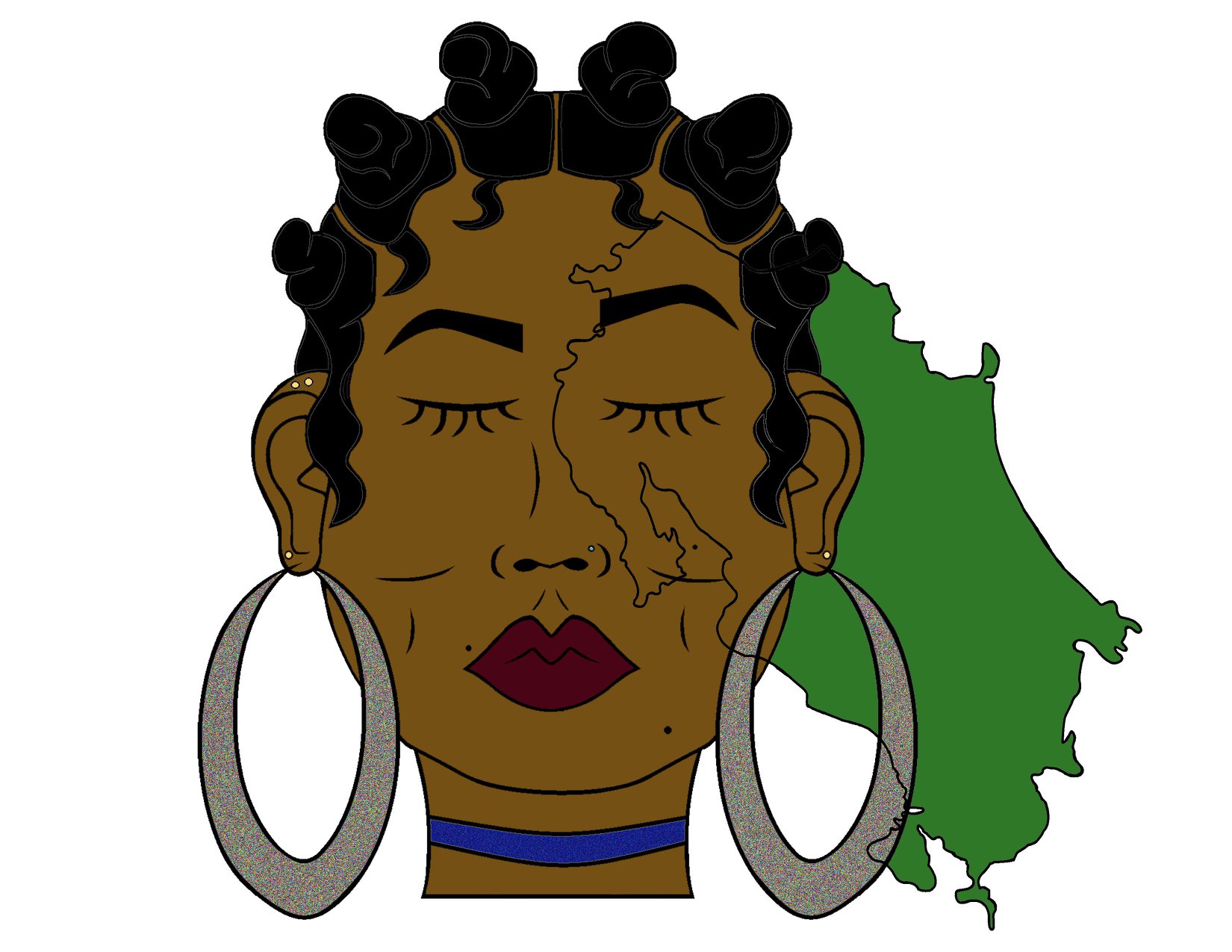 Miss Costa Rica. Her hair is styled in bantu knots representing her culture and big hoop earrings with dark red lips to enhance her style and beauty. You'll notice Costa Rica sketched into her face, paying homage to her homeland and providing representation for the Afro Costa Rican people.
Miss Bolivia. Her country, along with various others, is a part of the African Diaspora. The strong features in her face represent her African traits. You'll also notice there's a free hand sketch of Bolivia blended in with her face. This shows she is a part of her homeland, and her homeland a part of her.
Is there a correlation between the African Diaspora and Yumme Brand? How do you incorporate the diaspora in your images? Yes, there is a correlation. The latest project relates directly to the 29 countries that the United Nations recognizes where 250 million Afro-descendant of slaves still live. The term "African Diaspora" refers to the locations and communities where descendants of our ancestors were taken from Africa by way of the Trans-Atlantic Slave Trade. I decided to create a second coloring book dedicated to girls who weren't born in the U.S , but are a part of the African Diaspora, because I would never leave any of my sista's out of this creation!
Some of the characters in your book have lines and other markings on their faces. Is this symbolic of something, and if so, what? The lines you are referring to are in "Color Me Yumme International Vol. I." [They] create a continuous outline of the country or island from which the woman or girl resides.
What has been the most challenging aspect of building your brand? The most challenging aspect of building my brand has been maintaining consistent faith in my vision. There have been countless number of times, when I have questioned my capabilities and my vision for Yumme Brand. I have days and nights where I have been exhausted and weeks where I have been broke. However, these emotions and circumstances come with the territory of owning your own business, when you are attempting to make a ground-breaking impact on the world. These emotions are necessary for success, and I have no problem facing them. because I want to be successful. Often times small businesses tend to be short lived because they are not getting enough support. I have invested more money into my business than received and to be honest, it's discouraging. However, I can see the result of my hard work and my future, and it is bright! I just have to continue working until I reach my goal. PERSEVERANCE is key in life and in being a business owner.
What upcoming projects can we look forward to seeing from you and/or Yumme Brand? [Well], last year I was able to hold an event entitled ''The Brown & Black Crayon Conversation" at libraries across the United States. During these events, I had the opportunity to talk to young girls about the importance of self-identity, self-love, self-confidence, and why it's important to always use specific colors when coloring faces that have the same features as they may have. I absolutely loved hosting those events, so I am definitely going to do more this year.
For future events the topics will expand to incorporate young black girls, who live in Central and South America, as well as the Caribbean. We will also talk about young women, who are albino and are experiencing different stages of vitiligo. I incorporated this into our discussion, because there are times when we come across human beings with various skin pigmentation, [and] no black girl should be left out of these important conversations. You can also expect more products (including collaborations with music artists)! I'm not going to give away too many details, but I am also currently working on something for little boys!
Do you have anything else you want to share? Yes, if you have a dream, pursue it. I believe people are put on this earth for a specific reason and we are given different skills and talents to help us pursue the reason while we are here. Once the specific reason is found, that person should attempt to help impact the world by using his or her talents. Also, I would like to share that what you ultimately want to achieve in life never comes easy, but if you have trust, dedication, faith, and perseverance, you will always succeed.
Yes, Sis!